Another Registered letter sent from Jericho on 28.Dec.1994 chap. 4b
The period between the closing of Israeli post offices until the official First Day of the P.A. post : (1.Jan.95) the post office functioned .only partially . It dealt mainly with distribution of incoming mail . . Most of the period there were NO stamps NOR postmarks . When the P.A. stamps arrived , toward the end of 1994 , there still were NO postmarks . Thus outgoing mail , if any , are scarce .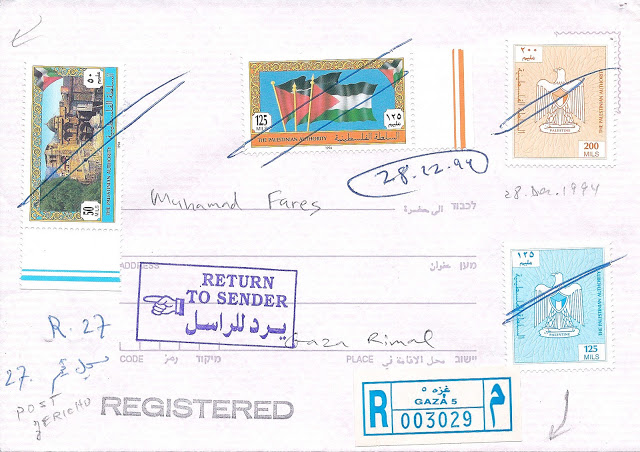 Stamps pasted on the envelope were cancelled manually (by pen) as well as the posting date ( No postmark ) . Registration labels also were not yet available , thus the Name of the office (in Arabic) and the Reg. number (27) were handwritten , at the lower left side of the envelope .

On arrival at Gaza , a PROPER Gaza -5- Nr.. 003029 , label was adhered on front . On the rear side a Gaza -3 , 3.Jan.95 ( the 1st day of this postmark) a transit postmark was struck , and finally Gaza-5 (Gaza Rimal) of 19.Jan.95 arrival postmark .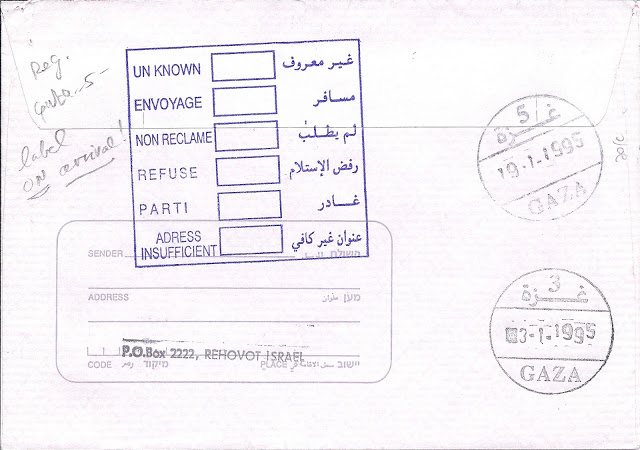 After an unsuccessful attempt tp locate the recipient , it was returned to sender .