Below are several examples of mail transfers between Arab states and Israel via third countries, in the period between 1952 to 1968; that is, prior to the 1967 "Six Day War" and immediately thereafter.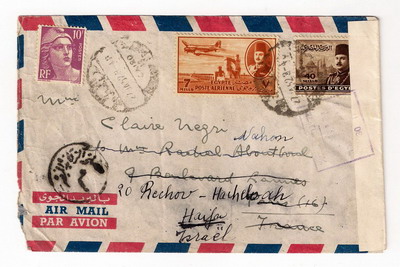 1952, A LETTER FROM Egypt, Mailed by R. Cohen to Paris. In Paris, local address erased and Haifa, Israel address added + French stamp affixed. The letter was censored in Egypt (pmk) and in Israel (censor label + pmk) + Arrival cachet of Haifa.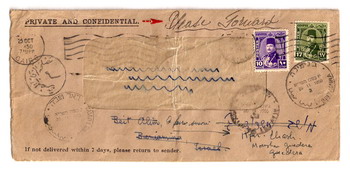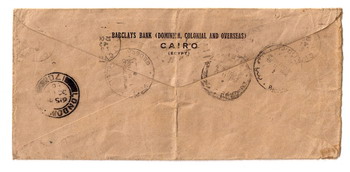 Forward Mail. Cairo 25.Oct.1950 + censor cachet. London 30.Oct.1950. Israel: Beit Olim ['Immigrants Housing'] - Binyamina 23.Nov.1950 (23.11), Binyamina 26.Nov.1950 (26.11), Rehovot 27.Nov.1950 (?), Beer-Tuviya 29.Nov.1950 (29.11), Tel Aviv 30.Nov.1950 (30.11), Gedera 1.Dec.1950 (1.12).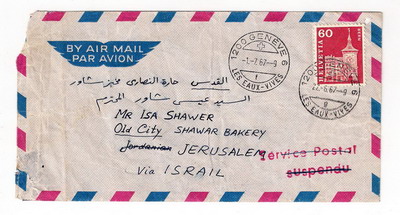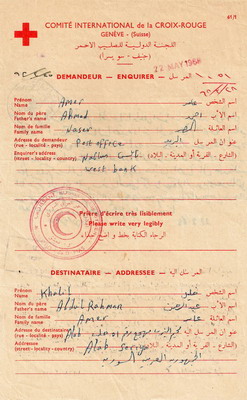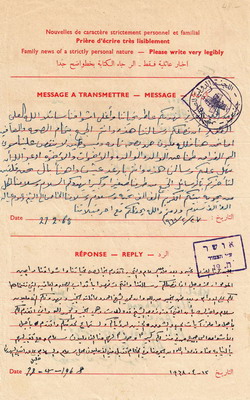 1968 Red Cross form, x2 messages: (a) ex Damas. Syria (Red Cross cachet) 27.Feb.1968, to Nablus/West Bank under Israel (b) Answered 12.Apr.1968, Isr. Censor cachet, red arrival cachet in front: 22.May.1968.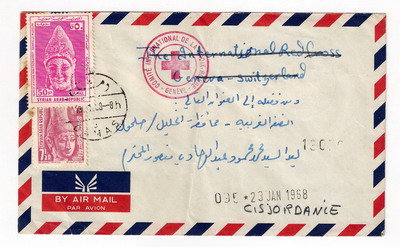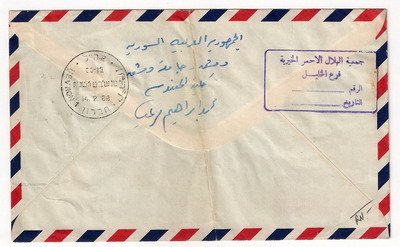 ex DAMAS/SYRIA 13(?).Jan.1968 Via Red Cross, cachet: 23.Jan.1968 + ser. Nr. "CIS Jordaine" (handwritten), back-stamped HEBRON ZAHAL 14.Feb.1968. "The Int. Red Cross, Geneva, Swiss" crossed, probably as shorter route via Jordan.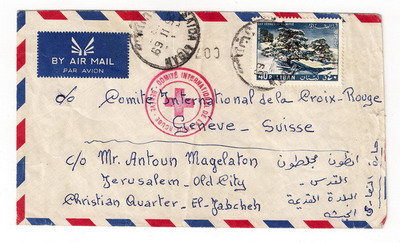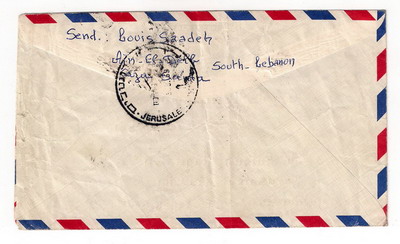 ex Lebanon 25.Feb.1969 to Old City, Jerusalem, via Red Cross. Back-stamped East Jerusalem 30.Mar. or 30.May.1969.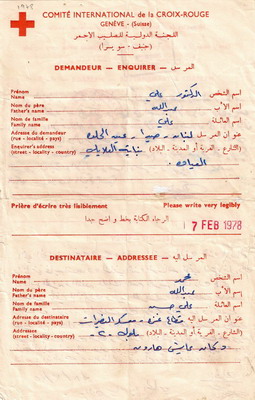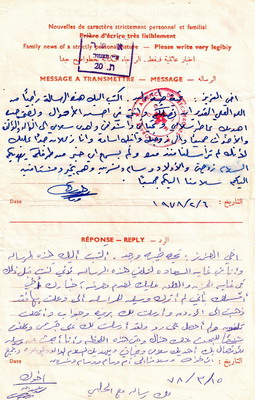 CIVIL correspondence Via Red Cross (non-P.O.W. mail). Original message ex SAIDA/ZYDON, LEBANON 6.Feb.1978, addressed to: Gaza Strip - Camp Nusseirat. Answered (2nd message) on 15.Feb.1978. On reverse: (a) Red Cross Beyrouth Agency (circular, red cachet) (b) Israeli viol. box censor Cachet (c) Red Cross one-line dated cachet: 7.Feb.1978 (front).