Internal Envelopes
Second phase: from London office to final destination - Israel or Arab states The internal envelope was franked with British stamps and posted to its destination. Note the sharp crease on the internal envelopes due to folding for insertion into the external envelope.
A. Payment Methods.
International Reply Coupons (IRCs). Envelopes arrived at the forwarding offices such as London or Cyprus, and contained the following:
(a) An unstamped envelope addressed to Israel or to an Arab country.
(b) Two IRCs. The IRCs were redeemed at the forwarding office to cover the cost of postage stamps: these were affixed to the addressed envelope which was then posted to its final destination.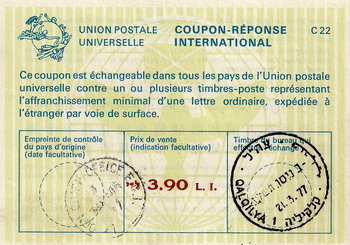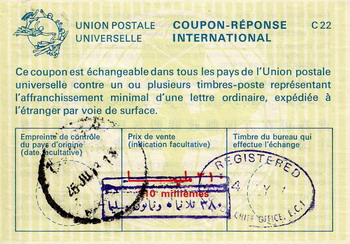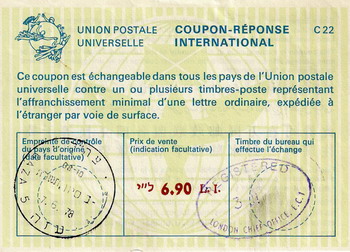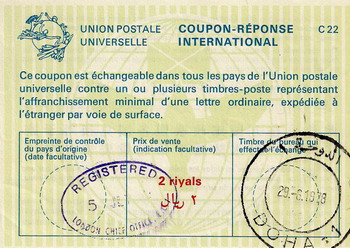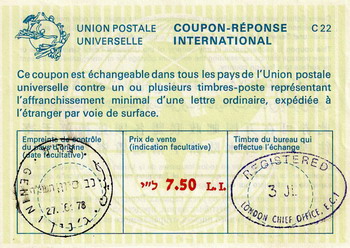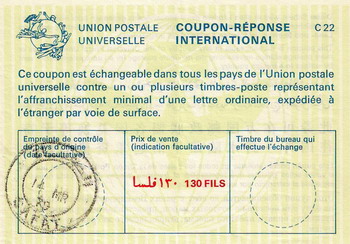 Samples of IRCs redeemed in London post office to pay for postage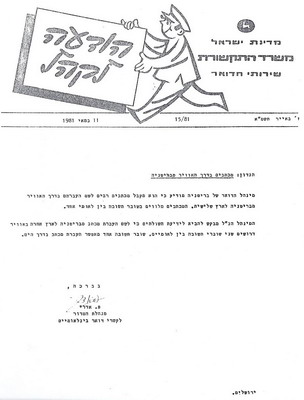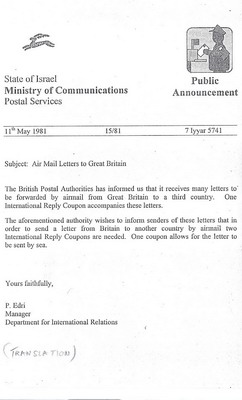 Public Announcement : Air Mail letters to Great Britain
The Whole Story in a 3-Line Cachet:



"Please advise the sender to forward two international reply coupons for each letter instead of one" cachet, applied in Cyprus (red). Front: in English. Back: in Arabic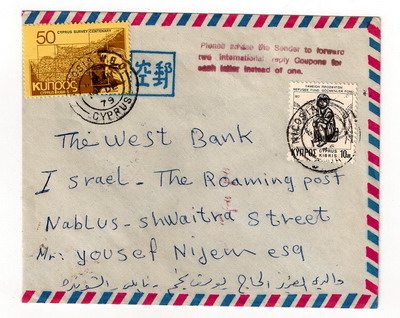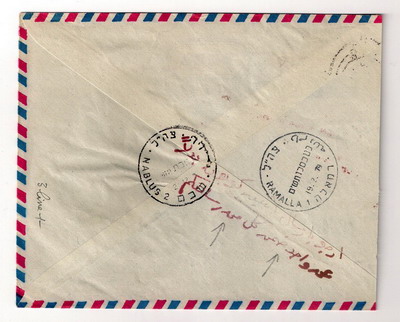 Cachet (blue) ex LIBYA, via CYPRUS, to Gaza - Palestine, Dir El-Balah (note vertical crease down center of cover).


B. Internal Envelopes ex London cancelled by Mute Postmark
The forwarding office affixed local stamps, and postmarked the envelopes. Most covers bear mute [ie: undated] postmarks, as the trip through a third country makes the date irrelevant. F.S. stands for Foreign Service.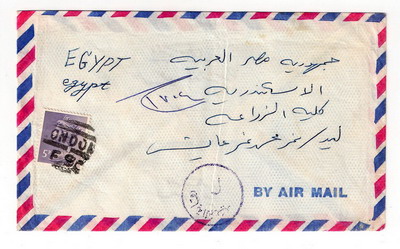 From GAZA via London to Egypt. Egyptian censor cachet.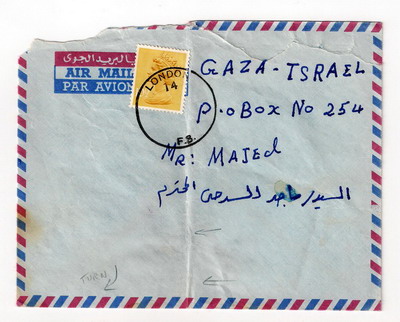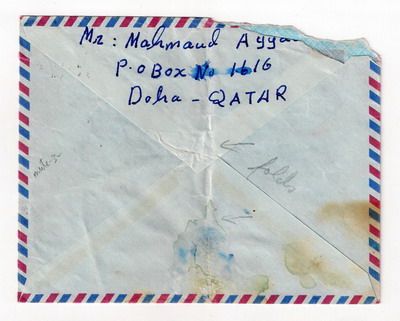 "LONDON F.S.(Foreign Service)" mute postmark, noticeable vertical crease, ex Kuwait.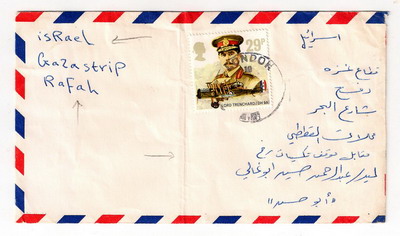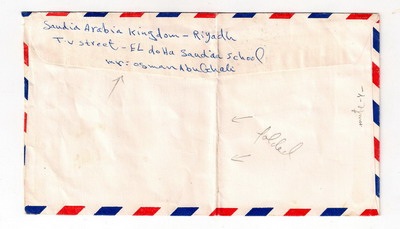 "LONDON F.S." ex Kingdom of Saudi Arabia via London, to: Rafah, Gaza Strip, ISRAEL. Noticeable vertical crease.
| | | |
| --- | --- | --- |
| 1970 LONDON F.S. machine cancellation. Israeli Hebrew 2-line cachet reads: "This postal item was delayed due to disruption in service". | | LONDON F.S. POSTAGE PAID machine cancellation, Nablus arrival postmark. |
| LONDON F.S. to Gaza. Origin of external envelope appearing on internal envelope - against the rules. Noticeable crease. | | ex ADEN to Gaza Strip. Note address and vertical crease. |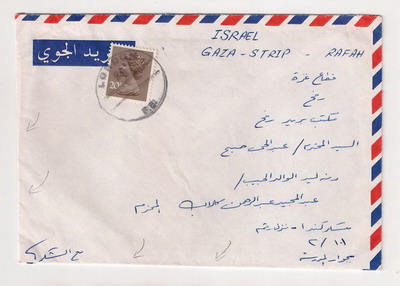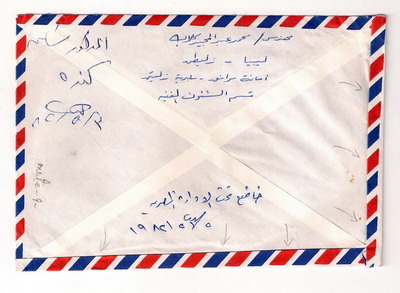 This is a showpiece item: Internal envelope with creases on both l ower edge and left, to fit external envelope, ex LIBYA to Rafah Canada Camp Gaza Strip, via LONDON forwarding offices.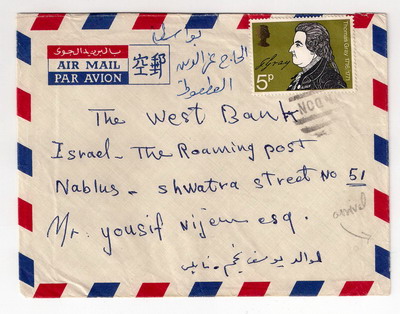 to Nablus, West Bank, Israel
Occasionally Dated F.S. Postmarks - SCARCE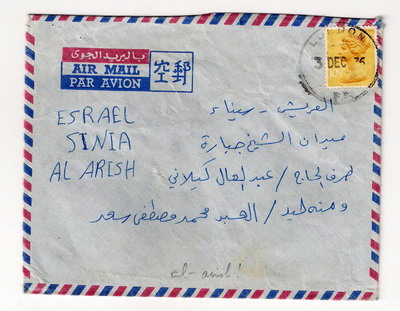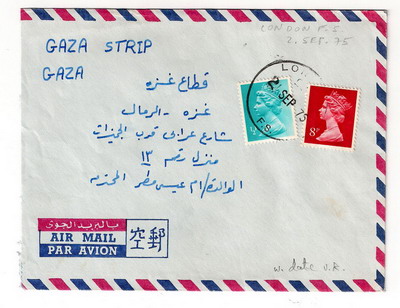 London F.S. with date [scarce]; destination El-Arish, Sinai (Israel).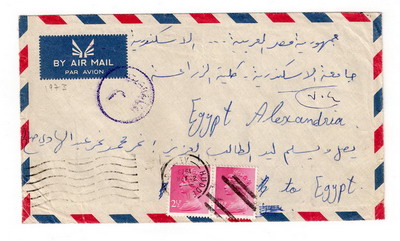 ex Gaza with address on rear, via LONDON private or forwarding office (?)
Killer Cancels (Undated)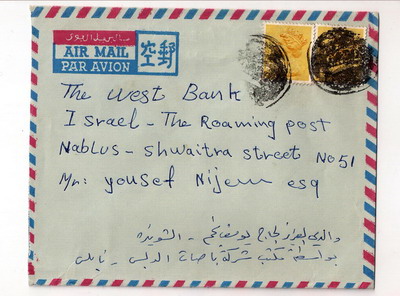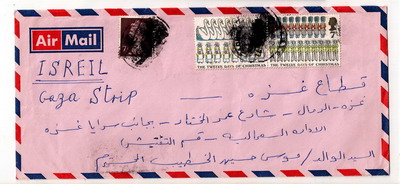 These envelopes, posted by the London forwarding office, bear "killer" cancels over the date, but the date has remained partly legible despite the ink blot.
C. Insufficient Airmail Postage.

Insufficient postage is normally solved by some form of tax on addressee or addressor. With rerouted mail, however, two problems were created: (a) The London forwarding office cannot be taxed; and (b most external envelopes did not display the sender's address, automatically disabling the "return to sender" option. As a result, external envelopes with insufficient, or no, postage were diverted via surface/sea mail. Occasionally when the sender address did appear, the mail was returned for corrective handling.

En route to London
There are three main categories: (i) Insufficient postage - diverted to surface mail; (ii) No postage; and (iii) covers showing sender's address to which the cover is returned for affixing required postage. "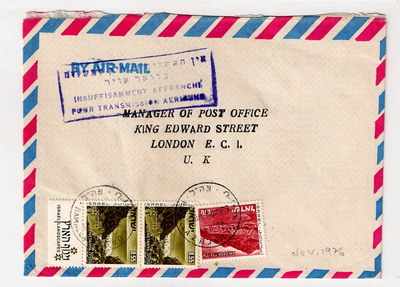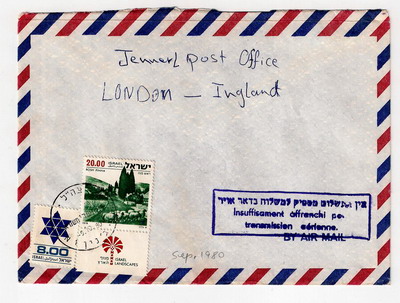 Insufficient airmail post, forwarded by surface mail.
| | | |
| --- | --- | --- |
| No stamps. " (ii) Unfranked cover with no postage | | Unfranked cover, no postage whatever thus forwarded free by surface mail. |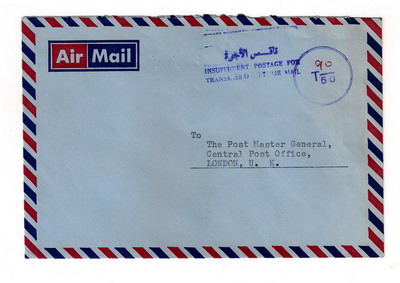 ex Dubai, UAE. Rubber stamp: "Insufficient postage for transmission by airmail" with round tax stamp applied in Dubai. " (iii) Returned to sender for addition of required postage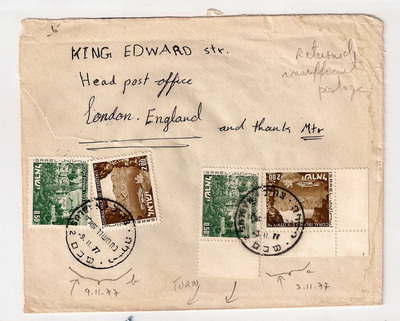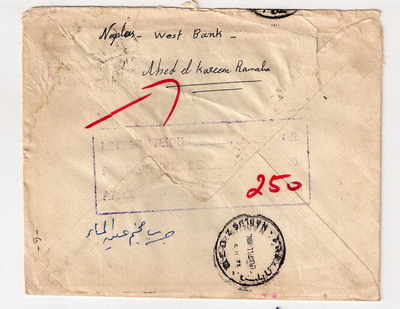 External cover, originally mailed on 3.Nov.77 franked with IL.2.50. Returned as "insufficient postage" per box cachet on rear. Additional IL.2.50 postage affixed, showing postmark 9.Nov.77.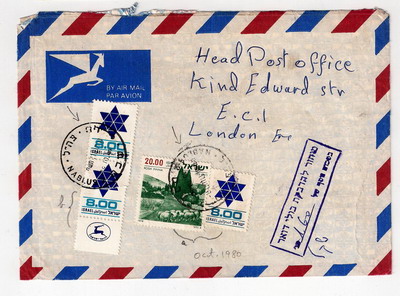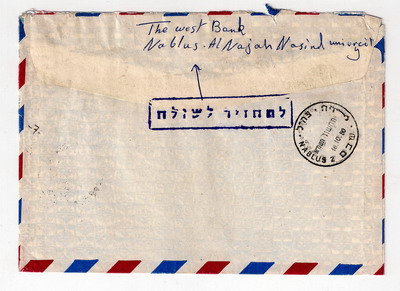 Box cachet: "Returned for additional postage: 1.60 shekel".
Ex London Office taxed covers to final destination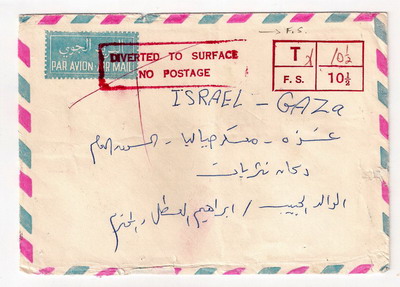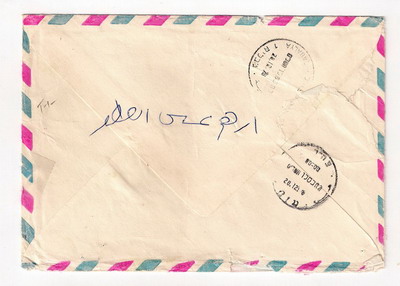 1. ex London to Gaza: DIVERTED TO SURFACE NO POSTAGE. F.S. Probably due to no IRCS being enclosed in external envelope.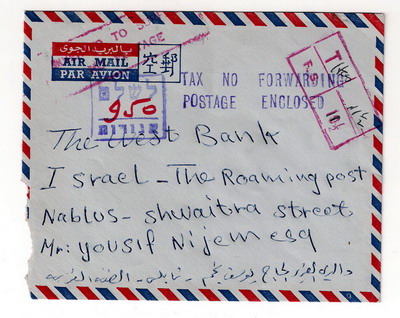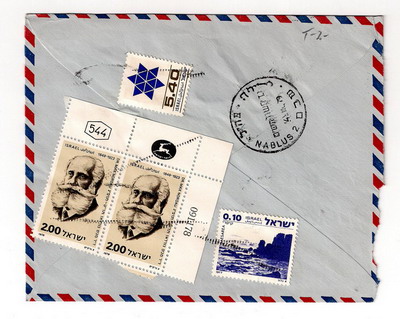 2. Show cover - (i) TAX NO FORWARDING POSTAGE ENCLOSED. This cachet essentially names the service. (ii) Red cachet in top left: DIVERTED TO SURFACE POSTAGE. (iii) in Israel: purple cachet - To pay 950 agorot [equivalent to Israel Shekels 9.50]. (iv) On back: tax paid with regular postage 9.50 Sh. (v) Arrival Nablus 1979 - F.S.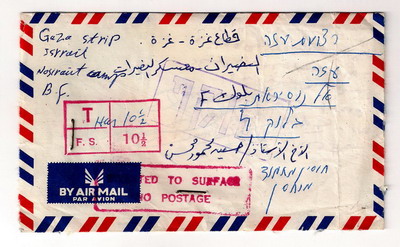 3. (i) Red cachet - DIVERTED TO SURFACE NO POSTAGE plus T 10 ½ F.S. (ii) In Israel: X-RAYED. To Al Nuseirat Camp, Gaza. Showing arrival postmark.
D. The Whole Story in a 3-Line Cachet

When the service began and the volume of mail was small, each cover was stamped with a cachet "Posted at …… sender cover to the Head Post Office, King Edward Street, London EC1". The country or city of origin, such as Amman, was added by hand in London. When the flow of mail increased, the country of origin was no longer noted on the covers. Later NO cachets were applied. The following two examples are very rare.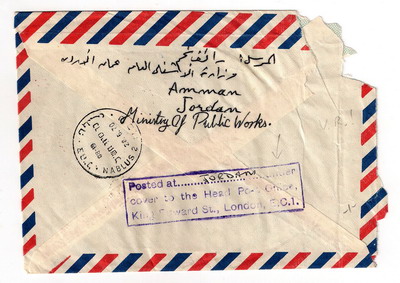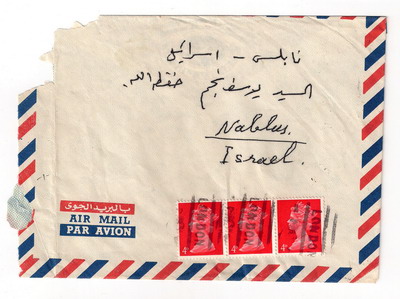 1. Posted at Jordan etc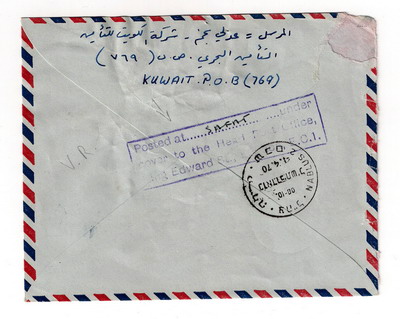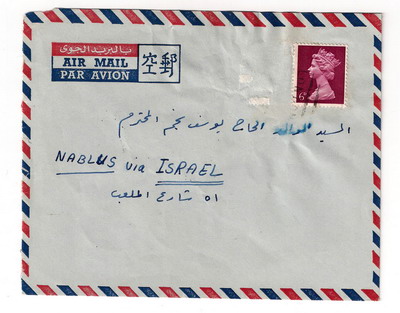 2. Posted at Safat etc