Letters returned for bearing illegitimate Pal. Aut. stamps
The original agreement between Israel and the Pal. Auth. clarifys that the the stamps will be valid only within the Pal. Auth. territory . Mail intended to Israel or other countries had to be franked with Israeli stamps .

In the early months of Pal. Auth postal activity (early 1995) , Israel overlooked violations of this clause . and let the letters go through .

Since July 1995 , Israel decided to enforce the agreement in full Thus an refreshed notice to the public was issued , stating , that letters carrying P.A. stamps will not be accepted outside the PA. territory and will be returned to sender ( see the text of notice ) The following letter was sent from Gaza on 27.Aug.1995 intended to Bir Zeit (near Ramallah) , which at this date was still operating under Israeli ( Zaha"l) post . The letter carried P,A. stamps of 100 Mils .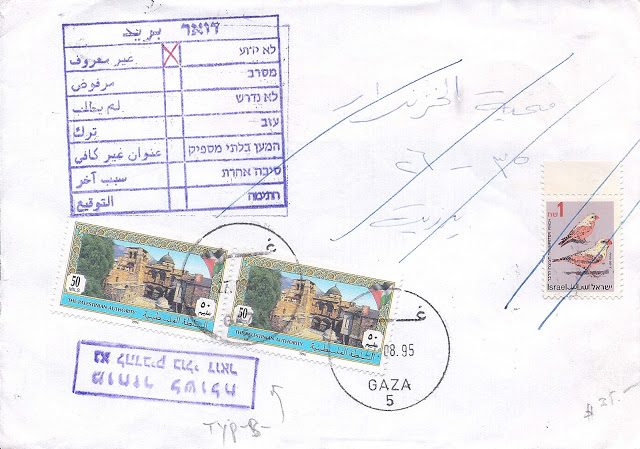 The letter was held by the Israeli sorting center and returned with a rectangular cachet (Hebrew) : "return to sender - apply postage stamps "





The letter was returned , and after applying an Israeli 1.- NIS stamp , was posted again . .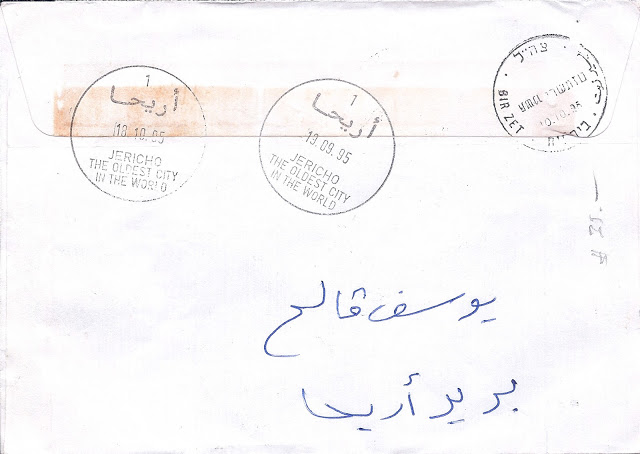 On 10.Oct.1995 the letter arrived at the (still) Israeli post of Bir Zeit ( see postmark on rear ) .
As not able to deliver - returned to sender with the final Jericho arrival postmark ..18.Oct.1995 .

(The above is a two period cover)

Additional example of a letter returned for improper franking